Prostranstva Seki Seki
First topic message reminder :
Centralna pustinja izmedju oblasti prekrivenih peskom.
Mnogi trgovci,obicni putnici,ninje i zivotinje prolazile bi ovim predelom u nameri da predju sa jednog na drugi kraj ovog pescanog bezdana.
U poslednje vreme behu cesti napadi novonastale bande koja je harala citavom pustinjom.
Prepadala bi i pljackala ljude. Ubijala.
Price su kruzile da ko udje u ovu pustinju nikada iz nje ne izadje...ziv.
Legende su govorile da bi samo kruzili i kruzili...
dok ih vreme ne bi pokopalo tim svojim zlatnim prahom.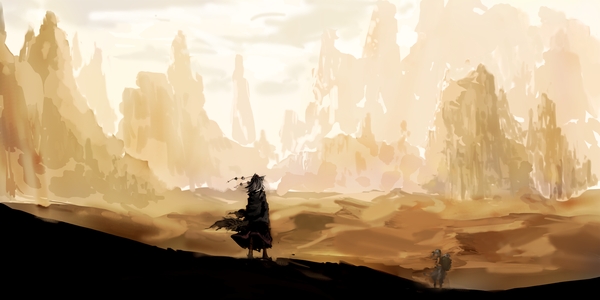 Još neko vreme proveo je istražujući ruševine napuštenog mesta. Našao je jedan kovčeg u kojem za divno čudo nije pronašao ništa sem možda neke bolesti koja se nalazila u silnoj prašini koja je iz istog izašla. Zgadilo mu se malo, pa je rešio da se vrati.

"Nisam našao ništa više možemo da krenemo."

Reče kada je posle nekog vremena stigao opet nazad.

Pasivne:


#card653 #card226


Konacno se sastao sa Shinom koji je predlozio da krenemo. Uze reci iz usta Rogue-i. Na to je Rogue samo rekao:

"Ajde, ja sam ove ubio iz prvog maha. Nikad laksa misija."

Potapsao je Shina po ramenu i polako krenuo ka selu.

Rogue je zaista bio jak kako je čuo. Jednim napadom sredio je čak sedmoricu i bez da se previše umorio. Shin je znao da su to bili dosta slabi protivnici pre svega slabo organizovani i bez neke taktike u borb. Kao bez mozga jurišali su na protivnika. Protiv seljana to im je prolazilo, ali bilo koji jači shinobi lako ih je sređivao.

"Lep posao."

Pogledom je prešao preko grobova gde su se nalazili leševi njihovih protivnika. Zajedno se vrlo brzo izgubiše sa tog mesta i zaputiše se ka selu skrivenom u oblacima.

Pasivne:


#card653 #card226


Ne možete odgovarati na teme u ovom forumu