Kafic Gamo
First topic message reminder :
Kafić koji se nalazi na centralnum trgu Konohe. U njemu su prikupljeni razni egzotični recepti napitaka koji služe kako bi se gost osećao kao kod kuće, ma iz bilo kog kampa/sela da je došao. U kafiću uvek vlada dobra atmosfera zbog udobnog enterijera i prijatnog osoblja.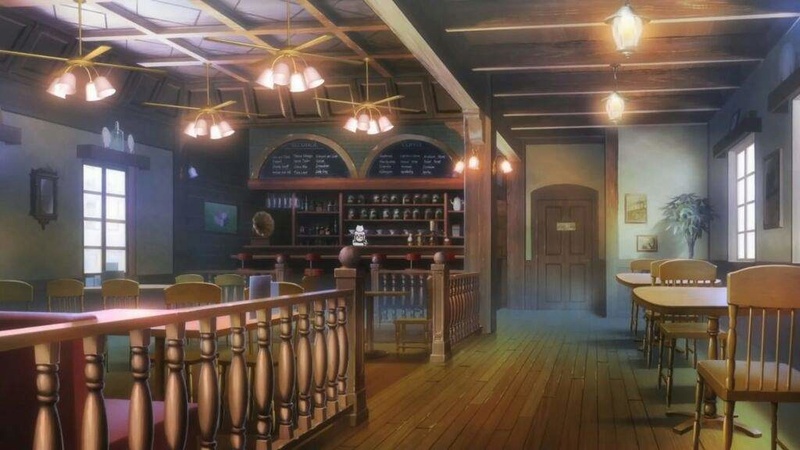 Konovarica je donela pice dok mi je sugovornik odgovorio. Ovlazio sam usta sa par gutljaja vruce kafe te krenuo da pricam...
"Da li si i ti ninja?"
Pogledao je coveka sa kojim je razgovarao. Bio je sasvim normalno obucen, kao i svaki normalan gradjanin, ali sa pomalo hladnim ocima. Mozda nije ta hladnoca i nije bila njegova krivica, ipak je verovatno prosao kroz dosta teskih stvari u zivotu... zivot ipak nije bajka i ne mogu svi uvek biti srecni...

Jesam, ti?
Odgovorio mu je kratko i jasno. Uvlačeći dim kvalitetnog Konohljanskog duvana, shvatio je da njegov prilazak ima neki dublji i skriveni motiv. Ko zna šta je. Nije to puno interesovalo Johana. Hteo je što pre da završi sa njim da može da se vrati na flertovanje sa prelepom šankerkom.
You mistake the stars reflected in a pond for the night sky:


#card226 #card653
#card363 #card682

Uzeo je jos po koji srk kafe dok je slusao Johana. Nakon sto je Johan odgovorio Avelj je opet progovorio.
"Da li znas neki efektivan nacin da naucim sto vise tehnika u jednom danu. U zadnje vreme bas sporo napredujem, a zelim da postanem Jounin."

Pogledao sam Johana, ipak je bio obucen u kosulju i nosio je kravatu, nije bilo moguce da je neki genin ili akademac. Usput je opet nakrenuo soljicu kafe.

Doduše, tek sam počeo da se bavim time. Znam samo par tehnika vode.
Već mu je počinjao ići malo na živce. Tako random dođe neko i pita te da li si ninja i kako da napreduješ. Naručio je jednu limunadu jer je postajalo baš vruće unutra. A i jedva je čekao da mu šankerka okrene leđa.
You mistake the stars reflected in a pond for the night sky:


#card226 #card653
#card363 #card682

Avelj je vec gutljaj po gutljaj skoro pa popio svoju soljicu kafe. Johan mu je u medjuvremenu odgovorio.

"Dobro nista vec je vreme da odem, kasno je... Ako ti nekad budem trebao potrazi me po obliznjim parkovima.", rekao je te je ostavio novac za sankom.

Nakon sto je ostavio novac, izasao je iz kafica i zaputio se prema parku.
Usetao sam smekerski u kafic i seo za mesto kod sanka.Prisla mi je jedna veoma ljupka konobarica i pitala me za narudzbu.
"Jedan produzeni espreso i jedna voda."
Konobarica je klimnula glavom i otisla po narudzbu.Razgledao sam prelepi ambijent kafica.Pustala se neka lagana muzikica koja je vrlo opustajuca.

Ubrzo je stigla i konobarica sa mojom porudzbom.Zahvalio sam joj se i omirisao tu prelepu aromu.Srknuo sam jednom i odusevio se.Prelep espreso.Nasao sam neke novine i opustao se uz njih.Zapazio sam clanak u novinama o toplim izvorima Konohe.Mislim da je to jedno idealno mesto za otici posle ovog kafica.Srknuo sam to malo espresa sto je ostalo i popijo vodu.Ostavio sam novac ljupkoj konobarici,naravno sa baksisom,i napustio kafic.
Ne možete odgovarati na teme u ovom forumu