Akademija
Akademija sela u kojoj se mlađi članovi sela uče osnove oružija i razne ninjutsu-e kako bi postali pravi šinobiji. U akademiji rade učitelji/ce koji imaju dužnost da štite mlade nade kao i da objašnjavaju novijim igračima pravila koja oni ne razumeju.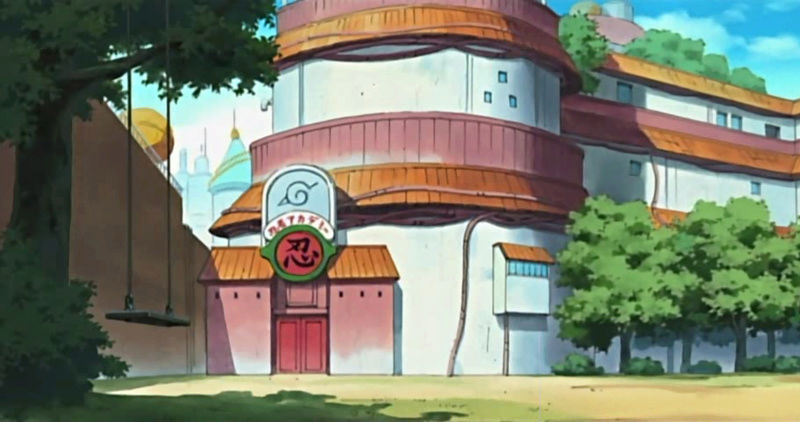 Usao sam u akademiju i otisao u ucionicu u kojoj cu raditi pismeni deo ispita za titulu genina.Seo sam u klupu i cekao ucitelja.Osetio sam se kao da sam u akademiji svoga sela.Tamo je jako mala akademija i nije ni slicna ovoj.Ova je strasno prostrana i velika i ucenici imaju mesta za sve.U akademiji moga sela nema mesta nigde ni da stavis olovku.Morao si je drzati u ruci i skupljati se u malim klupicama.Ovde deca sede po dvoje u klupi.Usao je ucitelj koji mi se javio i odmah predao papir.Kunai je....,surikeni se.....Kada sam odradio sve predao sam papir koji je iste sekunde pregledan.Ucitelj mi je ispruzio ruku i rekao da sam prosao pismeni deo,jos samo praksa.Rekao mi je gde da odem i zaputio sam se ka mestu na kome cu se boriti sa ispitivacem.
i tako sam stigao do akademije,srce mi malo poigrava o dragosti jer dolazim na mjesto gdje cu postati shinobi,i tako otvaram vrata od akademije tu odmah je stajao po mom misljenju Jounin pitah ga:

Onui:
"Dobar dan,danas mi je prvi dan na akademiji nikako nisam bio ovde mozete li mi objasniti u koje odjeljenje idem?"


Jounin:
"Oho,stigao nam je jos jedan Hyūga,kako se zoves i kojoj porodici pripadas?"

Onui:
"Zovem se Onui Hyūga,pripadam glavnoj porodici Hyūga.Zasto to pitate?"

Jounin:
"Veoma dobro,podji zamnom."


Taj Jounin me je doveo do nekih vrata,iza tih vrata se cula buka imao sam neki strah da otvorim ta vrata,ali skupio sam hrabrosti i otvorio ih.
To je bio moj prvi dan na akademiji.Mnogi njudi su tu bili samo radi moci ali ja nisam bio jedan od njih.                                                                                                                                                                                     Stefan:Dobar dan izvinite što kasnim                                                                                                                                                                                                                                                                                  Jonin:Nema veze sjedi.                                                                                                                                                                                                                                                                                                                 To je bio početak mog puta ninje.
-Ulazim , nalazim mesto u zadnjim redovima ... Diskretno razgledam okolo , nista zanimljivo ... -

Dosadno je , ali uvidjam vaznost ovoga ...

-Slusam pazljivo nastavu-

-Iznenadjujuce korisnih informacija-
I'd rather die on my feet then live on my knees
Dosao sam posjetiti akademiyu u kojoj sam bio godinama.
A ovo mi je mozda zadnji put da ju vidim prije nego sto polozim genin ispite.
Kad sam dosao sva sjecanja na dobra stara vremena su mi proletjela kroz glavu.
Samo sto nisam zaplakao obuzele su me emocije ali tad sam otisao.

Dolazim na cas da prosirim svoje znanje , cas iako je poprilicno dosadan imam osecaj da nije los , dosta je truda ulozeno u njega
My allies are my sword and I am their shield
Altair je prišao Akademiji. Seo je na onu staru ljuljašku koja je i dalje bila tu. Nostalgija ga je obuzela, setio se svojih dana u Akademiji. Posmatrao je ceo teren i na svakom mestu bi mu se pokazalo drugo sećanje iz akademskih dana. Bio je u isto vreme i srećan i tužan jer je tu naučio dosta stvari i upoznao mnošto drugova, sa kojim sada nije više u kontaktu.
Ne možete odgovarati na teme u ovom forumu