Reka Naka
First topic message reminder :
Reka koja protiče kroz celo Konohagakure selo. Prema granici sela ona se uliva u uvalu a zatim nastavlja dolinom u nepoznate teritorije.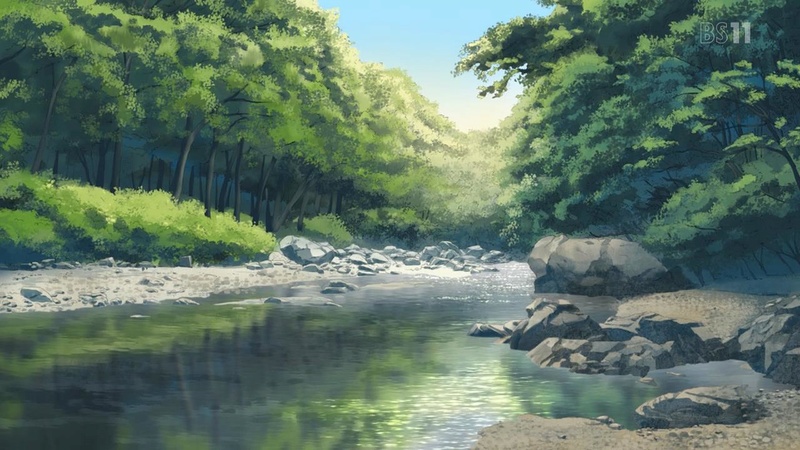 Video sam poštara kako je seo i počinje da gleda u mene. Malo mi je bilo neprijatno zbog njega. Pošto sam video da ga zanima šta ja radim izvadio sam hladan sok iz torbe i ponudio ga.
Uzmi, hladan je.
Pružio sam mu sok, dok je on prilazio meni, i seo.
Pasivne (jer tako smo u mogućnosti):

#card671
#card270
#card96
I ako je taj pogled trajao nekoliko minuta,pogledao je cak i mene kao da me je prepoznao,i kao postar ni sam ne znam kako izgledaju sem njihovog imena da sam i sam hteo popiti taj sok kada mi je ponudio,ustao bi sa kamena i dosao kod njega i uzeo taj sok da sam hteo sesti pored njega i pre nego sto sam otvorio rekao sam mu.
Pa hvala.nego gledam ovaj tvoji stap i ako je zanimljivo pecanje pa sam hteo da gledam kako ces uhvatiti ribu.
otvorio bih flasu i ako se culo nekakav prasak kada se otvori da sam uzeo gutljaj sok koji je pa i bio prijatan a vetar bi poceo pomalo duvati da je oborio kapuljacu na glavi ali mi se videla moja kosa sto sam i ocekivao.
os ti malo.sigurno si i ti zedan.
Neka hvala, ne mogu sad. Ostavi flašu u torbu.
On je stavio flašu u torbu, dok sam ja sedeo pored njega. Sedeo sam sa prekrštenim nogama, i video da počinje da trza. Izvukao sam ribu, i ubacio je u mrežu.
'Esi video, tako se to radi.
Pasivne (jer tako smo u mogućnosti):

#card671
#card270
#card96
Vec dugo bih sedeo i gledao kako peca ribe i ako nisam bio zainteresovan zato nesto i ako sam sedeo sa Mizuom,poceo bi da krene negd edok bih mu mahao a hladno vreme je vec tu a ja imam kapuljacu i sal,jedino sto mi je bilo hladno i da mi se islo kuci,video bih neki sneg i ustao bi i pravio grudveod snegakoje sam video,osetio sam nesto sto se krece a kad sam seokrenuo da idem kuci video bih psa koji zeli seigra sa loptom i to sa grudvom,setio sam se necegai nasmejao sam sekada sambacio na njega grudvu i ako nije velika ali bi poceo kijati i rekao bih mu nazdravlje,otisao bi dalje a pas sa vlasnikom valjda.
Pet meseci, od rodjenja, nije posetila ovo mesto. Porodjaj je bolno iskustvo za svaku zenu, a za Ginu bio je takav I period izcekivanja. To je jer je u svojoj utrobi nosila dete mrtvog oca, pripadnika Uchiha klana. Detence je sada bilo van njenog stomaka, zivahno I energicno. Ime mu je Isamu. Znacenje tog imena je "hrabar".

Gina drzala u rukama snasno, dok se gipkim pokretima spustala do reke kako bi dozvolila detetu da oseti prirodnu hladnocu ove vode.

Nakon sto su se osvezili tu, nastavili su dalje putem…

Dosao je poslije treninga na rijeku, odlucio je Mik da se osvjezi. Razbio je led i polio se hladnom rijecnom vodom. Sprao je znoj i osvjezio se... prostro je ogrtac po ledu rijeke i sjeo je na isti. Njegov odraz u ledenoj rijeci je bio zanimljiv, slika je bila iskrivljena, bas kao i njegova psiha... pomalo ludo. Gledao je nebo i probijao mislima kroz oblake, daleko je dopirao, cak i do svemira... prolaztio je kroz planete, izgubio se u prostoru. Nakon 20 minuta gledanja koji su prosli kao sekund, on se trgnu iz misli i trznu na mjestu. Krenuo je polako uvijen u ogrtac.
Setao sam uzvodno uz reku.Blagim tonovima je zuborela i vetar je pirako.Reka je skroz cista i mirna i mogu se videti ribice.Legao sam na neku travu odmah pored reke i slusao je kako zubori.Prisetio sam se starih dana provedenih sa ocem na reci.Stalno smo umeli da idemo na ovakve reke i pecamo.Obozavali smo to da radimo.Imali smo sator pa smo se ponekad zadrzavali i po 2,3 dana.Uvek nam je bilo lepo na reci i kroz ceo svoj zivot obozavam reke i pecanje zbog toga.Ovo je bas fina i lepa recica.Nije zagadjena uopste.Uspeo sam i da zaspim.(Budim se nakon 3 sata).
"Uh covece,ala sam se naspavao."
Zaspao sam na reci i stvarno lepo otspavao.Pozurio sam i krenuo kuci.Dobro je pa se moze uci u Ulicu Ujedinjenja,to mi je kraci put.Zavrsio sam u ulici i brzim trkom krenuo kuci.
Ne možete odgovarati na teme u ovom forumu