Tamnica - podzemlje
taj Uto Jan 23, 2018 3:38 pm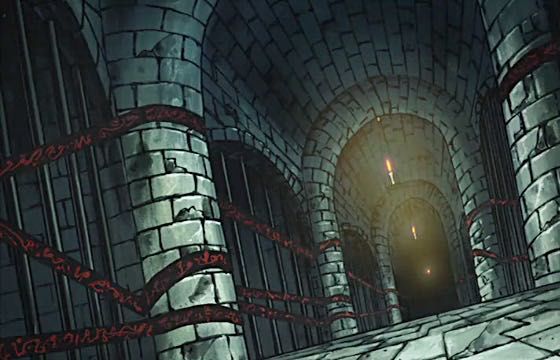 Izlovane celije u kojima borave vazni politicki, ratni i osudjenici za najteze zlocine. Zatvorenici su apsolutno onesposobljeni, vezani i pod snaznim sedativima onemoguceni da promene svoj zarobljenicki status. Cuvari uz asistenciju medical shinobija neprekidno obilaze i nadziru/ odrzavaju zatvorenike u zivotu. Zatvorenici su tako vezani i omamljeni da ne mogu prikupljati ch, ono malo sto se prirodno talozi, povremeno iz njih izvlaci cuvar.
taj Čet Jan 25, 2018 4:51 am
*Strazari su Stefkea doveli i zatvorili ga ovde. Onemogucen je da pobegne, povredi sebe ili nekoga drugog. Alucard ce ga posetiti sutra uvece.
~The Bird of Hermes is my name, eating wings to make me tame.~ 
taj Čet Jan 25, 2018 8:22 pm
Stefkea su zatvorili...Osecao se onako lepo i svakidasnje,cak i lepse nego inace...Nije morao nista da radi,nije bilo one smetnje sto nazivaju chakrom...He was all alone...
Dosta je komfornije i opustenije od katakombi...
taj Ned Jan 28, 2018 10:01 pm
*Stefkea su odneli u njegovu kucu i tamo su ga ostavili da se osvesti i dodje sebi.
~The Bird of Hermes is my name, eating wings to make me tame.~ 
taj Sub Feb 03, 2018 4:08 pm
Dosao sam do tamnica.Cuvari su mi bili u pratnji.
Jedan je otvorio tamnicu i pokazao mi je da ga tu
ostavim.Cuvari bi odradili ostatak.Potom sam krenuo
sa cuvarima da hodam prema hodnicima.Okrenuo sam
se i pogledao Peru.To je bilo poslednji put da sam ga video.
Nadao sam se da ga vise nikada necu videti.Penjem se
uz stepenice i dolazim do hodnika...
Nalog za hapsenje:

Ovo je formalni nalog za hapsenje shinobija pod nazivom Pera Joestar.
Proglasen za sumnju o izdaji kampa Yamiyo i njegovog Lorda.
Kao potencijalna pretnja svaki vid kontra napada tokom operacije je moguc.
Shinobi ne pokazuje neke velike vestine,ali pak postoji sansa da je sve prevara.
Poznata je informacija da poseduje chakru elementa zemlje.
Svako sa nalogom ima pravo da ga odvede u zatvor kampa Yamiyo.
Ubistvo nije opcija i ukoliko dodje do toga bice strogo kaznjivo. ~ Yuichi Jin
taj Pon Feb 05, 2018 1:34 pm
(Probudio se u tamnici ali nije video Shintoa, bio je previše umoran da čak i razmišlja. Hladan znoj mu se slivao niz lice a pogled mu se mutio. Izaćiću odavde, bila je prva njegova pomisao.. a i ako ne izađem i srmt nije toliko strašna, bolje nego udovoljavati onom izgovoru od Vladara. Nekako je uspeo da se odvuče u ćošak sobe i da legne uza zid. Čak i da je znao šta će se desiti svejedno bi postupio isto. Ono što on nije želeo nije dopuštao nikoga da ga primora na to.)
taj Pon Feb 05, 2018 1:37 pm
(Zavoji na kolenima i oštar bol ga je podsetio na događaje koji su se odvijali u Glavnoj dvorani, pomislio je kako je mogao biti glup da nasedne na jeftine trikove i činjenicu da je prevaren da dođe ovde. Lažan osećaj sigurnosti je odisao čitavim kompleksom Dvorca, cela jedna struktura napravljena da stoji kao simbol slobode protiv tirana, koja mu je ulivala želju da i sam pomogne tom cilju. Je postala razlog njegove patnje, postala je daleko nepravednija nego od bilo kog poreza iz takozvanog Visokog Sada, zatvorio je oči i zadremao, razmišljajući da li vredi prekidati diktaturu sa drugom diktaturom.. staro je ipak poznato a novo je loše.)
taj Sub Feb 10, 2018 1:45 am
(Sisao je i pucao omamljenim karikaturama u glavu( Shinto i Hayato), nije trpeo nedovrsena posla pred odsustva. Shinta naredi da sahrane na groblju uz svecanost kao i dolikuje, a po raspalom Hayato-u se ispisa i ostavi ga da pacovi sljapkaju po njemu. Strazarima rece da spale jadnika do veceri,ociste citav prostor i ostave mu pepeo u urni. Kako je obavio sve krenuo je nazad ka Jinu koji ga je cekao.)
#card734

H:1000
E:1000-80
C:1000
~The Bird of Hermes is my name, eating wings to make me tame.~ 
Ne možete odgovarati na teme u ovom forumu